About Us
Who We Are
The Early Educator Support Office at East Carolina University is one of two regional hubs funded by the NC Division of Child Development and Early Education (DCDEE).  The purpose of the Early Educator Support Office is to provide mentoring and evaluation services to nearly 400 teachers in four regions in Eastern North Carolina, stretching from Durham to the coast.  A second regional hub serves the western side of the state and is located at the University of North Carolina at Charlotte.  The Early Educator Support Offices support the professional growth of teachers through classroom–based coaching and observations, demonstration site visits, ongoing professional development and access to professional learning groups to support teachers in implementing best teaching practices.  This is necessary to provide high quality early learning experiences for the more than 8,000 children attending these classrooms annually.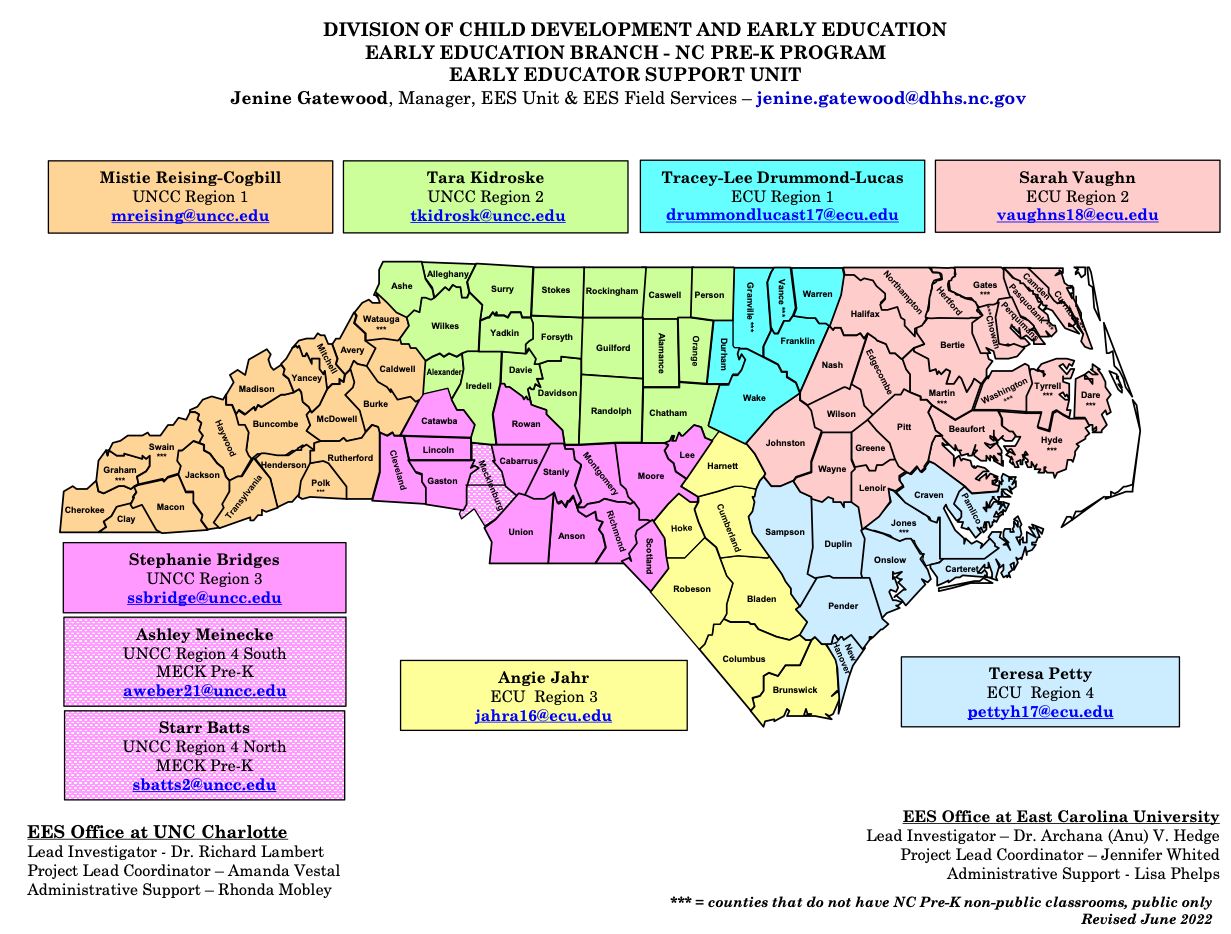 Who We Serve
The Early Educator Support Office at East Carolina University serves lead teachers in NC Pre-K or Developmental Day programs that are in nonpublic school sites.  Nonpublic school sites include Head Start programs, developmental day sites and other licensed childcare facilities. Lead teachers employed by these sites receive mentoring and evaluation services. Some teachers may already hold an initial or continuing license; others are working towards becoming fully licensed while holding a residency or provisional license. These teachers work closely with their assigned mentor and/or evaluator to complete the steps necessary to become fully licensed within three years.  
The TEAM Approach
The procedures for mentoring and evaluation services have been established by the Early Educator Support unit and offices in conjunction with DCDEE guidelines. One of the most important steps in this process is the development of the team who will work with the teacher to acquire and maintain licensure. This team consists of the Teacher, Evaluator, Administrator and Mentor who work together during each program year. Each member of the team takes responsibility for working collaboratively with the teacher to promote effective teaching practices to provide positive outcomes for student learning.