BS Public Health
Can you see yourself in a rewarding career promoting positive health behaviors by designing, implementing and evaluating educational programs and services in a variety of settings? Are you interested in graduate education in medicine, dentistry, pharmacy, physical therapy, physician assistant or public health and want a major that provides all the required prerequisites AND a foundation in public health?
The bachelor of science degree in public health (BSPH) trains individuals interested in improving and promoting health. Our graduates work as vital members of community and health-care teams. They serve in hospitals, clinics, non-profit agencies, and health departments, as well as, industries, schools, local, state, and national governmental offices and private businesses. Some majors also go on to graduate education in a variety of medical, dental, allied health and public health programs.
The BS in public health has three concentration areas.
Community health educators assist individuals and communities as they strive for improved health. The community health concentration builds specialized knowledge and skills in community organization, needs assessment, and educational strategies in order to plan, implement, and evaluate programs and services in a community-health setting. Graduates typically find employment in local health departments, hospitals, governmental agencies and a variety of community-based organizations such as substance abuse agencies, pregnancy prevention programs, STI prevention programs, community assessment initiatives and heart and cancer associations.
The pre-health professions concentration prepares students for entry in graduate professional schools in areas such as medicine, dentistry, physician assistant, pharmacy, physical therapy and public health. Students can participate in an optional internship that allows them some early exposure to their intended medical, allied health or public health field.
The worksite health promotion concentration offers a unique opportunity to blend public health, exercise science, and business management courses in preparation for a career as a health promotion specialist in various worksite settings. Worksite health promotion specialists plan and coordinate programs in areas such as nutrition, fitness, weight control, smoking cessation, hypertension, and stress management. In addition to assisting employees maintain or improve their health, they also advise company executives on health policies and programs.
---
Interested in a Minor in Public Health? Click here for more information.
---

Admission Requirements
Community Health
• Minimum 2.75 overall GPA
Worksite Health
• Minimum 2.75 overall GPA
Pre-Health Professions
• Minimum B in the following courses: BIOL 1100, BIOL 1101, BIOL 1200, BIOL 1201, CHEM 1150, CHEM 1151, CHEM 1160, CHEM 1161.
Students must declare on or before earning 75 credit hours.
---
Four Year Plans
• Community Health concentration
• Pre-Health concentration
• Worksite Health Promotion
A 12 s.h. internship is required for both Worksite Health and Community Health Concentrations. Students in the Pre-Health Concentration can enroll in an internship if they meet certain criteria. If you are completing an internship (most of you will be), the experience will be supervised by the program's Internship Coordinator. Prior to the 100-hour mark you should meet with the Internship Coordinator to begin exploring internship options. For more information about Internship in Public Health please click here.
---
Delivery Methods
This program is only offered in an on-campus, face to face format.
---
Accreditation Information
The BS in Public Health is fully accredited by the Council on Education for Public Health. If you wish to review the most recent self-study document or the official accreditation report, please contact the Program Director, Kelli Russell, MPH (russellk14@ecu.edu).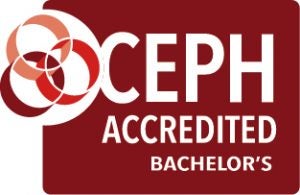 Institutional and Professional Licensure Disclosures for Enrolled and Prospective Students
ECU degree programs satisfy the professional licensure and/or certification requirements in North Carolina and prepare students to sit for these exams.  However, requirements in other states may be different.
If you are considering a degree program that may, would, could or potentially lead to a professional license and/or certification, please note that at this time ECU may or may not be able to advise whether a  program meets requirements outside of North Carolina.  Prior to enrolling in a degree program, please discuss this important topic with your program of interest.