BS Environmental Health
Are you interested in utilizing education, surveillance, consultation, inspection and enforcement to improve the quality of the air we breathe and the water we drink, to safeguard the food we eat and to protect the population from exposure to hazardous substances at home and work? Would you like a career in a public health profession that the US Bureau of Labor statistics predicts will grow by 28 percent in the next decade?

Environmental health is a branch of public health that is concerned with all aspects of how the natural and built environment affects human health. Environmental health science students are trained to ensure the safety of what people eat, breathe, touch, and drink through a curriculum that blends science, public health, management, and policy. Environmental health professionals work in a wide variety of settings. Almost all of these involve working with people and translating scientific and technical information into clear and understandable language for educational, legal and public information.

Students will be prepared to use technologies and strategies to address environmental disease causes and apply preventative measures associated with foodborne, waterborne, and vector borne diseases, as well environmental diseases causing birth defects and cancer. A BSEH degree will also prepare students to develop clean energy alternatives, reducing carbon emissions. Student will also provide leadership in development of comprehensive energy plans to avoid major economic disruption during disasters.

Graduates from the ECU's environmental health sciences program will be prepared for the professional challenges and opportunities available with local, state, federal, and international agencies. Student will learn the value of teamwork and communication skills necessary to protect the public health from any environmental threat.
Click here to view the ECU Environmental Health Science Blog.
---
Admission Requirements
Students are encouraged to enter the University at the freshman level with a declared intent to major in Environmental Health. A minimum GPA of 2.0 in all 1000 level basic science and math courses, a minimum cumulative GPA of 2.0 on at least 30 s.h., and completion of EHST 2110  are required for admission to the professional phase of the environmental health sciences curriculum. Environmental health majors must pass all environmental health courses with a minimum grade of C- (1.7). A student earning a D (1.0 or lower) in any of these courses must petition the environmental health sciences faculty for probationary continuation.
---
Program Requirements
The curriculum consists of two phases: the first two years are preparatory, during which the general education requirements for a baccalaureate degree are met, and those courses that are required as background for the second phase of the program can be taken. The junior and senior years make up the professional phase of the program, with course work taken in the specialty. Required core courses include: Biology, Chemistry, Physics, Organic Chemistry, Microbiology and Physiology.
---
Delivery Methods
This program is only offered in an on-campus, Face to Face format.
---
Accreditation Information
The BS Environmental Health program is accredited by the National Environmental Health Science and Protection Accreditation Council (EHAC). Such accreditation makes our students eligible to apply for great internship and scholarship opportunities that are only available for EHAC-accredited programs, and makes our graduates eligible for appointment in the U.S. uniformed services (e.g. US Public Health Service, US Navy).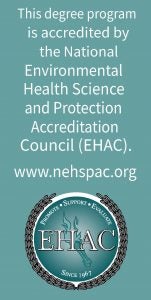 Institutional and Professional Licensure Disclosures for Enrolled and Prospective Students
ECU degree programs satisfy the professional licensure and/or certification requirements in North Carolina and prepare students to sit for these exams.  However, requirements in other states may be different.
If you are considering a degree program that may, would, could or potentially lead to a professional license and/or certification, please note that at this time ECU may or may not be able to advise whether a  program meets requirements outside of North Carolina.  Prior to enrolling in a degree program, please discuss this important topic with your program of interest.