Nancy W. Darden Child Development Center
About Us
The Nancy W. Darden Child Development Center (NDCDC) is an early childhood model training facility for the Department of Human Development and Family Science at ECU.
The NDCDC is open to the public and serves all children ages 12 weeks – 5 years. The NDCDC is open to the public and serves all children ages 12 weeks – 5 years. We work with the Department of Social Services to support the subsidized child care reimbursement program.
The NDCDC also serves as a research and observation site for students and faculty in all East Carolina University Departments.  NDCDC staff supervise undergraduate students as they use child development theory in adult-child interactions, developmental guidance strategies, and inclusive curriculum design.
The Center is open year round from 7:45 a.m. -5:30 p.m. Monday – Friday
Please call NDCDC main line at 328-6926 if you are interested in scheduling a tour or have questions about the center.

---
Tuition and Fees (Effective July 1, 2023)

Infant Classroom $485 bi-weekly
Toddler Classroom $485 bi-weekly
Preschool 3s Classroom $455 bi-weekly
Preschool 4s Classroom $450 bi-weekly
No Application Fee is required.
Annual Registration fee: $150 Non-refundable.
The Registration Fee is due when a slot becomes available.
---
Interested in enrolling your child at the NDCDC? Click here for the Application.
For more information about the NDCDC, check out the 2023 Parent Handbook and Operating Procedures
Click to see the NDCDC 2023-2024 Calendar.
Click here to see a Sample Menu that includes AM Snack, Lunch and PM Snack Nutrition.
---
NDCDC Staff
---
The mission of the NDCDC is to provide early education and high quality care for young children and serve as a model training facility for students majoring in Birth through Kindergarten Education, Family and Community Services, and Child Life.
We are fully accredited by the National Association for the Education of Young Children (NAEYC).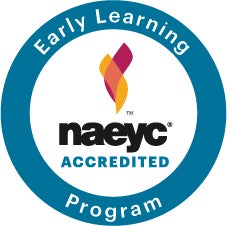 ---
The NDCDC:
Holds a Five-star child-care license issued by the Division of Child Development of Health and Human Services
Encourages children to become competent, independent thinkers, and problem solvers in a curriculum rich in play, social interaction, and language.
Uses the Developmentally Appropriate Practices Guidelines established by NAEYC.
Considers Families an essential component and encourage families to participate whenever possible.
Has an eclectic theoretical orientation, borrowing from the developmental and educational theories of Erikson, Montessori, Piaget, Reggio-Emilia, and Vygotsky.
Implements the Creative Curriculum to effectively plan daily routines, learning environments and assess overall development.
---
---
The DOCC at Darden
The Darden DOCC (Drop off Child Care) is a university affiliated drop-off childcare program located on East Carolina University's campus in the Nancy Darden Center. The DOCC at Darden is designed to help parents, by providing childcare during the evening times of their day. Click here for more information. 
Research Opportunities
We welcome research and collaboration from all ECU Departments. Two observation booths that hold up to 21 participants at one time are available for research or learning purposes.  Research conducted in the NDCDC must be approved by the NDCDC research committee and ECU's Institutional Review Board. If you are interested in submitting a research proposal to the NDCDC research committee, the links for the cover application and the protocol are available below. Please call Dr. Archana Hegde, chair of the NDCDC research committee, at 328-5712 if you have questions related to conducting research in the NDCDC.
To view protocols, proposal process and application please click here.